There are plenty of Battery Cases and Battery Covers for Apple iPhone 6 and iPhone 6S models. If you are using iPhone 6/6S Plus and able to exhaust the built-in battery before evening being a power user, then we do have some recommendations for Best iPhone 6 or 6S Plus case. We have a list of Best External Battery Power Banks for iPhone, iPads and Android mobiles compiled few days ago. Below, you will find some of the Best Apple Smart Battery Case Alterantives for iPhone 6 and iPhone 6S.
You may find it useful if you are looking for Power Banks to stay charged on long travels, weekend trips or not want to wear any cases or covers on your iPhone and love to use it without them.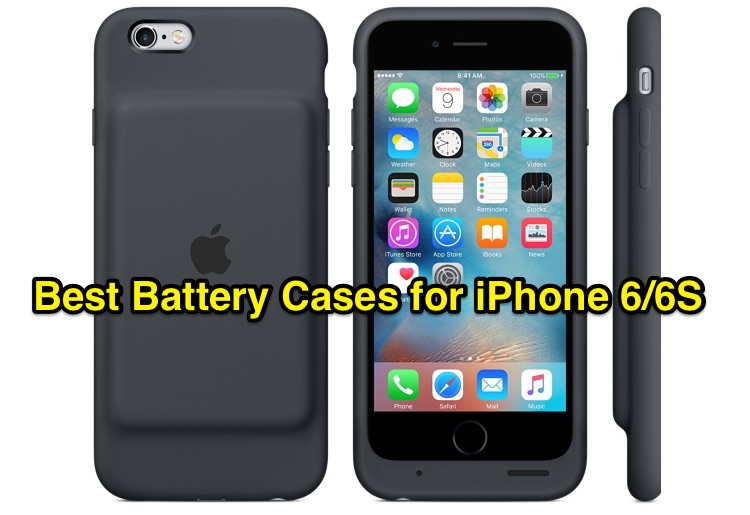 Apple has released an iPhone Battery Case a month ago and got lots of critics and negative reviews from people who are not impressed with their first glance on the design. However, it went out of stock on most of the stores in couple of days after its release. People who have used it for more than a week started loving how the case feels, gives good grip and solves the problem of searching for a charger by early evening.
iPhone 6 / 6S Plus has bigger battery, and it performs really great for one full day usage leaving all the services ON and especially staying on 3G or LTE. Unfortunately, iPhone Plus models are designed for Basket Ball hands 😉 and people who use iPhone still love the 4 inch iPhone 5S a lot.
iPhone 6 being smaller version with most loved screen size of 4.7 inch, lags in an important area, which is better Battery.
For normal users it comes for one day which is close to 9 PM where they can connect their iPhone back in charger. For Power users it is definitely worst even if they stayed on WiFi and turned off most of the services. Gaming, Surfing, Messaging and Fitness Tracking Apps suck the battery juice constantly.
The Phone has all the power to handle the task except the built-in battery capacity being a big problem. If you want to protect your iPhone and get best battery backup then consider picking up any one of the recommended case we have hand picked for you.
Apple Battery Case for iPhone 6/6S
I think i should start with the expensive battery case available for iPhone 6 and 6S from Apple which is criticized for its Price and Design. Apple Battery case for iPhone 6 and 6S is the solution from apple to fix the insufficient battery complaints by customers. Apple known for making money with its crazy accessories every time they release an iPhone, iPad or Mac products.
Apple Battery Case is found useful by most of the buyers after using it for a week. Though it adds little weight to the iPhone 6/6S, it gives excellent grip and one full day battery juice for iPhone under heavy usage. You get the battery duration just like Plus models and the price tag makes it equal to the iPhone Plus model pricing when you buy this battery case.
If you prefer Apple only products to get the satisfaction in quality, then go for Apple battery case and you will never regret it. This case adds protection, enough battery juice and made by Apple for your iPhone exclusively. Adds 18 hours on LTE Internet usage, Video Playback up to 20 hours and takes you through one full day without the need for charger.
Colors: White, Charcoal Gray
Capacity: 1,877 mAh
Price: $99
Buy from Amazon: Apple Battery Case for iPhone 6/6S
Mophie Juice Pack Air
Mophie is the leader in creating premium battery cases for iPhone and Android smart phones till date. Mophie Juice Pack Air is a special edition for iPhone 6 and 6S models that adds 14 additional hours of talk time, web browsing up to 10 hours, video playback up to 11 hours and music playback up to 50 hours. Ofcourse, you can get any one of the mentioned usage and mophie juice pack air gives 100% extra battery capacity to your iPhone.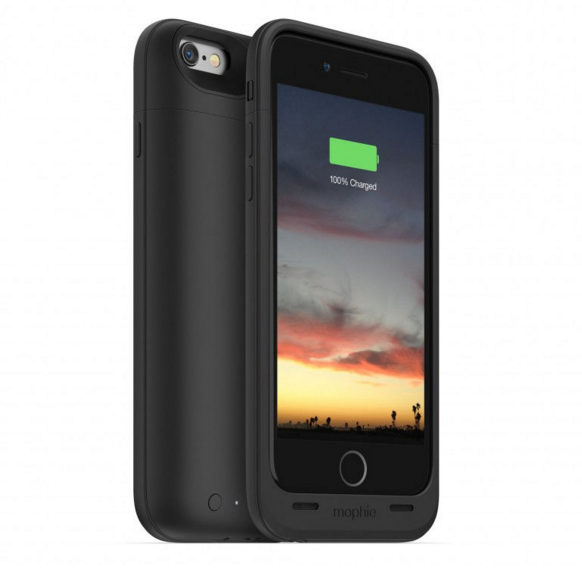 As the case extends the port connectivity at the bottom, it comes with headphone adapter to use any third party headphones that may not be compatible after you wear this case. Mophie's Pass-through charge and sync lets the case stay all the time and you don't have to remove or disconnect in order to charge and sync your iPhone with iTunes.
Mophie juice pack air for iPhone 6/6S also has High impact protection (level 2) which is added by rubberized support points that enhance edge to edge protection for your device. It fits perfectly on your iPhone and gives good grip and comfort when you hold it.
The switch on the back side of this case allows you to charge the iPhone whenever you want. There is an LED Indicator on the back side which also displays the available battery juice on the battery case.
Colors: available in White, Black and 7 other different colors
Capacity: 2,750 mAh
Price: $99
Buy from Amazon: Mophie juice pack air for iPhone 6/6S
OtterBox Resurgence Battery Case for iPhone 6/6S
OtterBox is known for strong cases and covers that protect the iPhone from shocks and dusts. Their new category of battery cases for iPhone launched recently and they have the same OtterBox protection with more battery juice for your iPhone 6 and 6S now. Their pricing is affordable and you get the best otterbox quality case that also protects your iPhone from Drops and Dusts.
The case has 2,600 mAh battery power to charge your iPhone 6/6S twice and auto stop charge feature technology saves power for later charging. LED indicator is available to know the power backup inside the case.
Colors: Black, Scarlet Red, Gunmetal Grey, Sage Green
Capacity: 2,600 mAh
Price: $55.17
Buy from Amazon: Otterbox Resurgence Battery Case
LifeProof FRE Power Battery Case for iPhone 6/6S
LifeProof is popular among athletes and sports enthusiast because of water proof iPhone cases. They are strong and gives protection from drop and water. Combining those two features with a built-in battery will help you go on and on without worrying about battery left on your iPhone. LifeProof also has iPad Air cases on their store.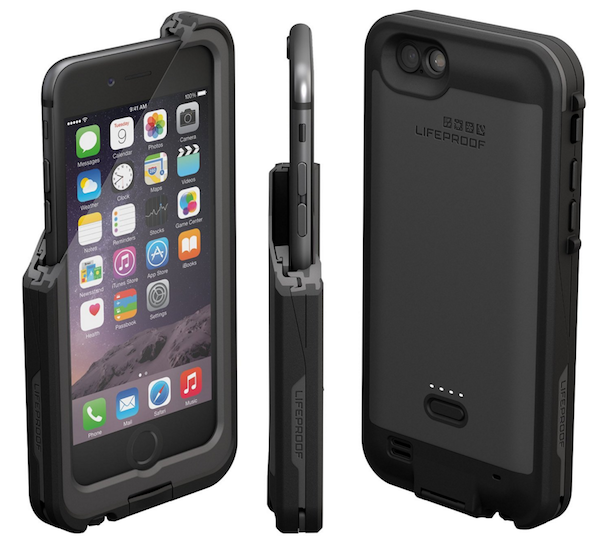 This battery case for iPhone has 2,600 mAh battery inside which gives 2 times battery life extra to your iPhone 6 and 6S. The mentioned on the site as this case is specific to iPhone 6, because of the 4.7 inch form factor I feel that it should fit very well on iPhone 6S as well as most of the case does.
Give your iPhone Water Proof, Dirt Proof, Snow Proof and Drop Proof protection. This case is an all-in-one protection case for iPhone.
Colors: Black, Blue, Gray
Capacity: 2,600 mAh
Price: $79.24 and above
Buy from Amazon: LifeProof FRE Power Battery Case
PowerSuit Battery Case for iPhone 6/6S (MFI Certified)
I like this case mainly for its clean profile and slim design when you wear it on your iPhone 6 or 6S. You will notice good difference if you have used any battery cases previously that added bulk and heavy feel to your iPhone. This case got best ratings from existing users for its slim design and clean looking material choices.
Build quality is good and Powersuit battery case for iPhone 6 and 6S adds 120% extra battery life. It is an Apple MFi certified battery case for iPhone that ensures compatibility with Charge and Sync to your iTunes when connected to mac computer.
Powersuit battery case for iPhone has some extra accessories inside the box that comes handy. The box includes Power Case, Belt Clip, Charging Cable and Audio Adapter. 4 levels of power indicator and one step installation makes this case stand out.
Colors: Black, White, Gold
Capacity: 120% extra charging
Price: $39.99
Buy from Amazon: Powersuit Battery Case for iPhone 6S
BSWHW Slim Rechargeable Battery Case for iPhone 6/6S
The name sounded weird to me initially but so far it has got positive ratings and reviews from existing customers who bought and using it with their iPhone 6. This one is cheaper, comes at $14.99 on amazon and sold for $50 on the stores. It has battery pack of 3,500 mAh that can charge your iPhone two times. This battery case adds less weight and feels slim when you wear it on iPhone 6/6S.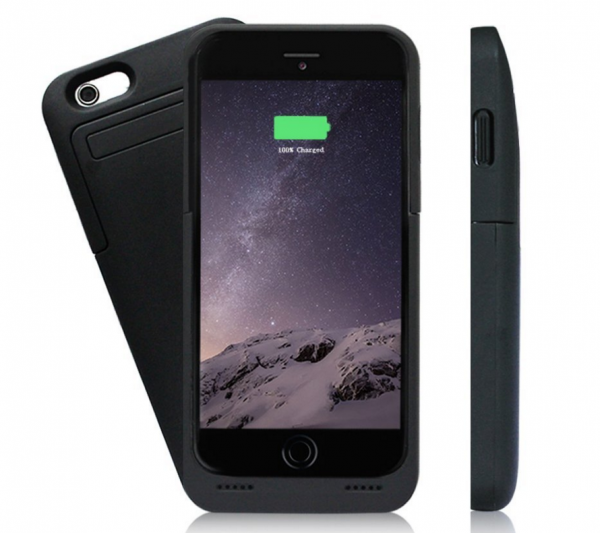 You can check the battery juice status by clicking on the switch located back side of this case. Decent case at affordable rate for your iPhone 6/6S that cuts the need for charging through out the day under heavy usage.
Best battery pack for weekend outing, vacation and long distance travel needs.
Colors: Black and Green
Capacity: 3,500 mAh
Price: $14.99
Buy from Amazon: BSWHW Battery Case for iPhone 6 and 6S
Trianium Battery Case for iPhone 6/6S
One of the top selling battery case for iPhone 6 and 6S phones. So far it has got best positive ratings and reviews from existing users, which made it quite successful. Trianium battery case for iPhone has 3,100 mAh battery inside the case which can provide 14+ hours extra talk time, 10+ hours web browsing time and more. Hard Shell on the back of this case provides excellent protection against drops.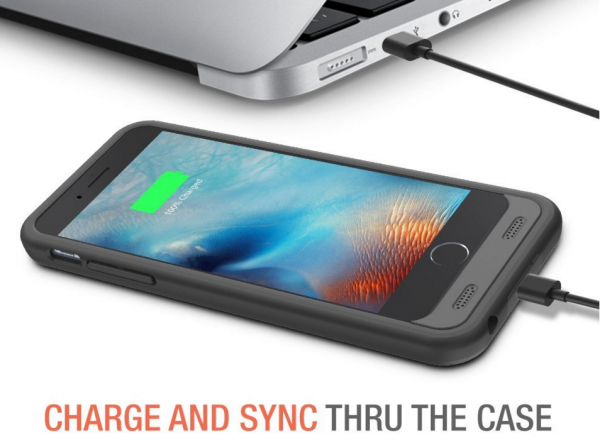 Sync Through technology in this case lets you sync your iPhone with Mac or PC without removing the case. You can charge your iPhone easily with the micro USB cable included with the package.
LED Battery indicator indicates how much battery juice left on the case. Gives good grip and has rubberized finish across available buttons for easy access. Another important feature highlight is its Warranty which is Lifetime Warranty as promised by the case manufacturer Trianium to prove their battery case quality.
Colors: White, Black, Orange and more available
Capacity: 3,100 mAh
Price: $35.99 and above
Buy from Amazon: Trianium Battery Case for iPhone 6/6S
There are plenty of other brands available, but we hand picked few best battery cases for iPhone 6 and iPhone 6S based on positive ratings and reviews from existing customers.
If you notice any battery case or brand that you love and using on your iPhone, and we missed to mention it in the list, feel free to add them in the comment box below. Thanks for reading and have a wonderful day.
You may also like to Read: