There are plenty of Battery Cases and Battery Covers for Apple iPhone 6 and iPhone 6S models. If you are using iPhone 6/6S Plus and able to exhaust the built-in battery before evening being a power user, then we do have some recommendations for Best iPhone 6 or 6S Plus case. We have a list of Best External Battery Power Banks for iPhone, iPads and Android mobiles compiled few days ago. Below, you will find some of the Best Apple Smart Battery Case Alterantives for iPhone 6 and iPhone 6S.
You may find it useful if you are looking for Power Banks to stay charged on long travels, weekend trips or not want to wear any cases or covers on your iPhone and love to use it without them.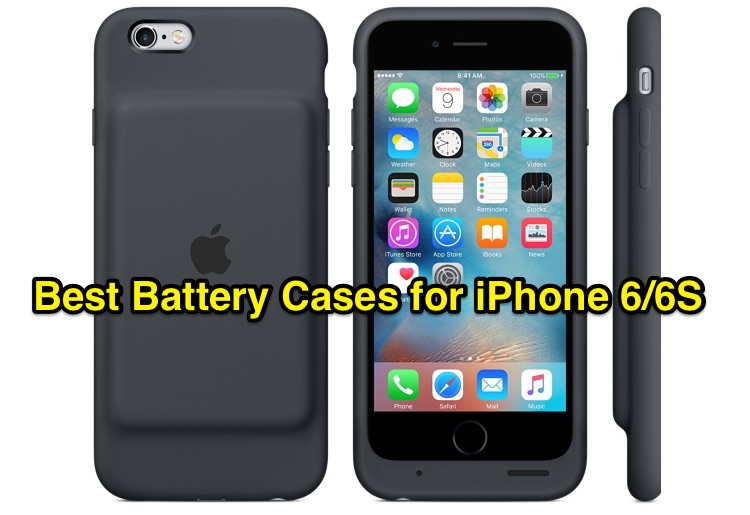 Apple has released an iPhone Battery Case a month ago and got lots of critics and negative reviews from people who are not impressed with their first glance on the design. However, it went out of stock on most of the stores in couple of days after its release. People who have used it for more than a week started loving how the case feels, gives good grip and solves the problem of searching for a charger by early evening.
iPhone 6 / 6S Plus has bigger battery, and it performs really great for one full day usage leaving all the services ON and especially staying on 3G or LTE. Unfortunately, iPhone Plus models are designed for Basket Ball hands 😉 and people who use iPhone still love the 4 inch iPhone 5S a lot.
iPhone 6 being smaller version with most loved screen size of 4.7 inch, lags in an important area, which is better Battery.
For normal users it comes for one day which is close to 9 PM where they can connect their iPhone back in charger. For Power users it is definitely worst even if they stayed on WiFi and turned off most of the services. Gaming, Surfing, Messaging and Fitness Tracking Apps suck the battery juice constantly.
The Phone has all the power to handle the task except the built-in battery capacity being a big problem. If you want to protect your iPhone and get best battery backup then consider picking up any one of the recommended case we have hand picked for you.
Apple Battery Case for iPhone 6/6S
I think i should start with the expensive battery case available for iPhone 6 and 6S from Apple which is criticized for its Price and Design. Apple Battery case for iPhone 6 and 6S is the solution from apple to fix the insufficient battery complaints by customers. Apple known for making money with its crazy accessories every time they release an iPhone, iPad or Mac products.
Apple Battery Case is found useful by most of the buyers after using it for a week. Though it adds little weight to the iPhone 6/6S, it gives excellent grip and one full day battery juice for iPhone under heavy usage. You get the battery duration just like Plus models and the price tag makes it equal to the iPhone Plus model pricing when you buy this battery case.
If you prefer Apple only products to get the satisfaction in quality, then go for Apple battery case and you will never regret it. This case adds protection, enough battery juice and made by Apple for your iPhone exclusively. Adds 18 hours on LTE Internet usage, Video Playback up to 20 hours and takes you through one full day without the need for charger.
Colors: White, Charcoal Gray
Capacity: 1,877 mAh
Price: $99
Buy from Amazon: Apple Battery Case for iPhone 6/6S