August month is totally a great month in this year so far. Got great traffic growth and ofcourse revenue part is "great". Hope to call the current month as "very great" 😀 . Ok, let me reveal the traffic report for the month of august 2010 and revenue earned via DailyTUT. And this is my first time writing the traffic report as well as revenue report. I was getting around 50$ per month before august, ofcourse as i was busy with my academics and now totally into blogging, means spending maximum time with blogging actually.
I remember my Blogging Goals for the Year 2010 which is set several months back. Now happy to see the achievements in traffic and overall comments growth and so on. Yet to focus on the Guest Posts as it becomes a challenge for me. Thats the reason i set my authors to contribute the guest posts to other blogs and get few here as well. Do check out the guest post exchange programme of dailytut.
And if you accept guest posts in your blog then do leave your blog address in 101 blogs to write guest articles.
August Month Traffic Report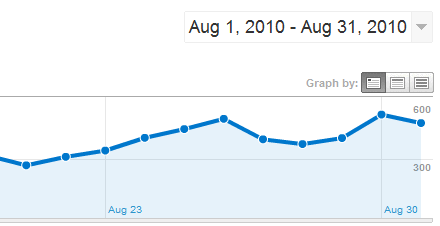 Its decent in numbers when comparing with previous months and hope to see the bar grow in September.
Good page views growth and total visits grown to 12k 🙂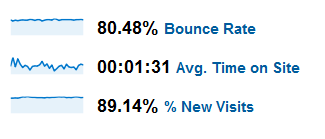 Whew.. i am so worried about the bounce rate and sure i will be taking steps to reduce it. Alexa keeps me happy by showing the bounce rate in negative always and ofcourse when the blog grows to certain level and we cannot expect the bounce rate to be reduced. Check with bounce rates of mashable or techcrunch 🙂
And main traffic source is Google 🙂
Revenue Report
Now the awesome income report for the month of August 2010 is here.
Blogging Services  – 120 $
Affiliate Sales –  233.10$
Google Adsense –  Big ZERO (it stuck at 76.45$ for almost 3 months. i really dont believe in Google Adsense anymore)
Direct Ad Selling  –  20$
Total –  373.10$
(screenshot from ejunkie – rockable press rock and rolled last month 🙂 ) you can check out the affiliate posts were made in the last month.
Thanks a lot for all your support and without your support it is impossible for me to earn this much. 🙂 i have planned for some attractive giveaway might be this month and next month to celebrate the earnings.