Comparing the data backup feature of iPhone and Android you have simple and secured feature in iPhone. It has the application called iTunes which automatically synchronizes and backup the data quickly and easily. When coming to Android it has some drawbacks in taking backup. You need to depend on third party applications to backup your personal data so you might have some threats while using those applications. So here is the best and secured app to backup and restore your data safely from your android phone.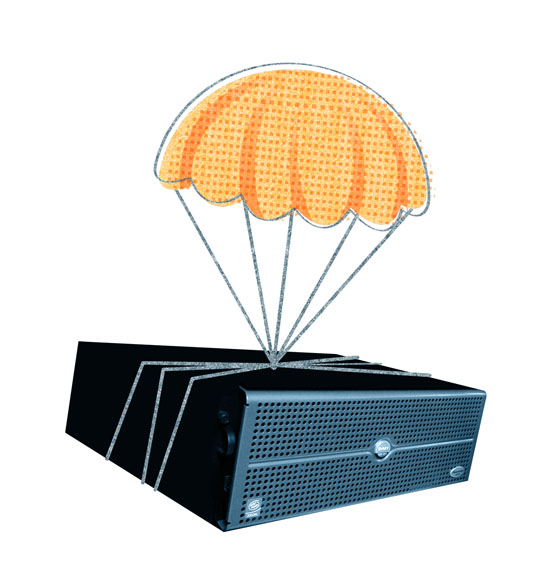 Download MyBackup Pro

1. MyBackup Pro is one of the most downloaded app for backup from the android market.
2. It has good user reviews and more than 10,000 people are using the app.
3. You can backup your data in their secured online servers or SD card of your mobile phone.
4. If you backup the data in their online servers you can access the data from your account at rerware.com
5. It do not requires root privilege to backup your data but it is essential when you need to backup .apk files and settings of your applications.
6. You can schedule your data backup everyday at a particular time which helps you in avoiding the loss of data.
Note: MyBackup Pro is a paid application and the trial version is available for 30 days. You can download the app from android market.
Steps to backup Your Android Phone

The backup includes contacts, sms, call logs and user data. As I said already to backup your application setting you need to root your android phone. If you don't have idea about rooting your android phone please check this article. Here are the steps to backup your data using MyBackup Pro.
1. Download MyBackup Pro from the android market and install the app in your android phone.
2. After Installing the app go to menu and tap over the MyBackPro to enter into it.
3. You can find the menu as shown in the screenshot below when you enter into the application.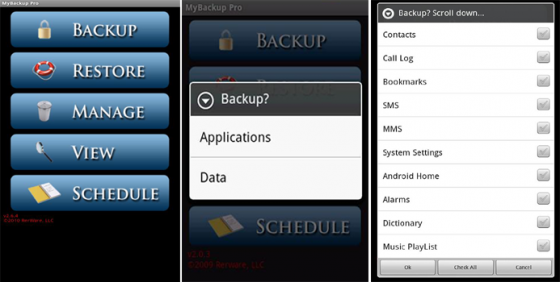 4. Click the backup option from the main menu and you have two options before you. One is to backup applications and other is data.
5. To backup data from applications use the first option. To backup data like music, pictures and videos use the second option from the menu.
6. First we go for applications backup. When you tap the applications you will have a list of applications running on your android phone.
7. Check the applications you need to backup or else use check all option to backup entire data.
8. After selecting the applications you can take backup in your SD Card or online servers of the app developers.
9. The same process is carried out in the second option of the menu. It helps you in taking backup of your music, videos and pictures from your SD Card and phone memory.
10. Then second option "RESTORE" in the main menu is to restore the data backup from online server or SD Card.
11. Third option "MANAGE" helps you in selecting the data you need to restore also to edit and delete data from the memory.
12. Fourth option "VIEW" helps in viewing the backup data from the stored location (SD Card or online server).
13. Fifth option "SCHEDULE" is one of the important and unique feature of MyBackup Pro. It helps you in taking backup periodically from your mobile phone. You can schedule the time to backup every day's data automatically.
These are the procedure and functions of options available at MyBackPro to Backup and Manage your data securely. This mostly helps when you format or factory reset your android phone.
Thanks for reading. Please let me know if you have any suggestions or doubts about this article in the comment box.
You may follow us on Twitter or like us at Facebook to get more Android news, tips and tricks.