Google+ is the most trending title for the past couple of days across all social networking sites, weblogs and in search engines as well. Many yet to try out Google+ where you may request for an invite here. Recently Google+ developers have made an announcement that the accounts created at present may be deleted if required and the user will get an invite during the official launch.
We've shut down invite mechanism for the night. Insane demand. We need to do this carefully, and in a controlled way. Thank you all for your interest!

For any who wish to leave, please remember you can always exit and take your data with you by using Google Takeout.

It's your data, your relationships, your identity.
Update: Google+ is in Field Trial
We launched Google+ in a Field Trial in order to test the product out and gather more feedback. As part of the Field Trial, we may open and close Google+ to new users at any time. We're psyched so many people are interested in trying out a new approach to online sharing, but please consider:
– At any instant, a given invitation may or may not grant access.
– There are rate limits that are subject to change.
– PRO TIP: Bulk inviting will not be an effective strategy for getting your loved one access. I would recommend inviting those people you really want to share with.
——————————–
However, there is one true statement i noticed in Google+ Stream today by "Justin Bacon", which is true and i hope Google+ developers may aware of this.
Justin Bacon
– Just don't be too stingy with them. I think one of the biggest reasons Wave flopped was the lack of people to try it with.
How to Back up Google+ Account ?
So if you like to remove your google+ account and take a back up of your data manually, you have to visit Google Takeout. Once you signin you will see "Download Archive" page to get the entire google buzz, contacts, circles, picasa web albums,  profile and stream updates you have done in google+.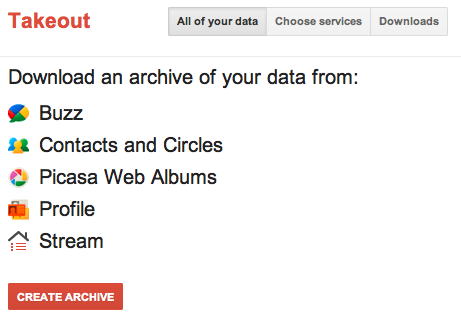 How to Delete Google+ Account ?
Once you have taken the backup of your data you may proceed to Google+ Account Settings and Select Delete option based on the two available choice.

I hope this article helps you in deleting your Google+ account.
You may follow us on Twitter or like us at Facebook to get more updates about Google+ News, Invitations and updates.