Google Nexus Tablet specification and complete details were leaked before the official launch and this time we are happy to see a complete Android Tablet that has got, what users want. There is no doubt that Amazon Kindle Fire has got its true competitor this time from Google. Not just about the price, the design and features are pretty impressive that comes as a big treat for android fans who been waiting to own an Android Tablet.
New buyers who are waiting to buy a cheap and best android tablet, this is the right time to go for with Google Nexus 7.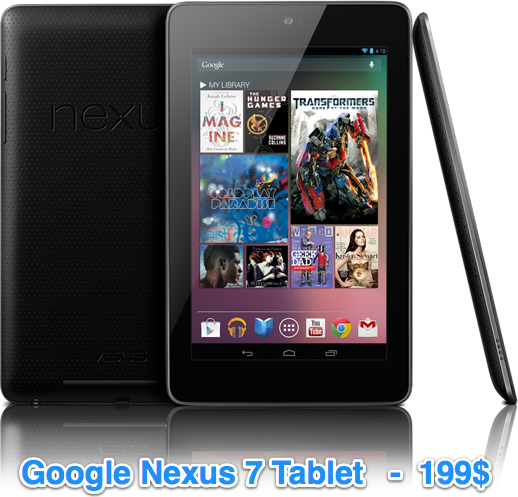 Lets start with the Hardware specification without any further delay.
Nexus 7 Specification
Processor: Nvdia Quad Core Tegra 3 (12-core GPU)
RAM: 1 GB on Board
OS: Android 4.1 Jelly Bean
Dimensions: 198.5 x 120 x 10.45 mm
Battery: 4,325mAh (8 Hours Usage)
3G / 4G: No
WiFi: Yes (802.11b, g and n)
Memory: 8GB / 16 GB versions available
Weight: 340 gm
Google Nexus 7 Tablet vs Apple iPad 3

Slashgear have released a video comparing these two tablets to showcase the way they works to help you understand and choose the one that suites for you.
[youtube width="600″ height="344″]http://www.youtube.com/watch?v=-BPa5phE4p4[/youtube]
Nexus 7 Tablet is pretty much a direct competitor for Amazon Kindle Fire, which has got so many improvements in terms of hardware specification and features. Google Play is there to let you download and install your favorite Android Apps without a waiting time. Google has really done some great research to bring this simple and one amazing tablet to fit any people budget. This one really fits into the budget for many who like to own a tablet and been waiting for something extra ordinary.
[youtube width="600″ height="344″]http://www.youtube.com/watch?v=YMQdfGFK5XQ[/youtube]
Though it is not possible to make it stand as the competitor for iPad, we can still choose this as our best android tablet in the market today. All the basic activities that one needs to do on a tablet is very much covered with Nexus 7. You can play Games, download and Read Books, Surf the Web using WiFi, it would be really great if it came with 3G support atleast. Google may have plans to add that feature in the next upgrade.
Google Nexus 7 Tablet Release Date
Google is so fast when it comes to the launch of their upcoming tablet. It is going to hit the shelves of your nearest Gadget and Computer shops by this July and recently they did announced that Google Nexus 7 Tablet will be available in India by September. Where we can expect that during September many countries will get this economic tablet officially in their shops for sale. Pre-Order now to get your Nexus 7 tablet soon.
Are you Interested and Ready to buy one power packed android tablet from Google ? You may share your views in the comment box below. Thanks for reading and please do share this post with your friends and followers across social networking sites.