Apple Smart Keyboard is definitely the best keyboard available for iPad Pro 12.9 inch and iPad Pro 9.7 inch. When you prefer, alternatives to smart keyboard, which is cheap and best, you have come to the right place. We hand picked few best apple smart keyboard alternatives that fits perfectly with iPad Pro and gives you excellent typing experience as well. These keyboards a very portable and rated as best by existing users.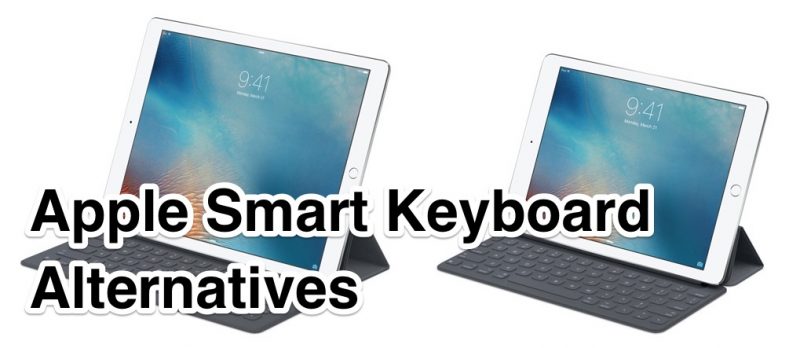 Connecting a keyboard to your iPad will easily convert an iPad to Macbook like experience. Apple has added several features to iOS 9 and made it compatible with several USB, Bluetooth and Wireless accessories. The software tweaks give more power to iPad to work like Mac OS (almost) when we connect accessories.
Apple also known for making good money with accessories business. Not just apple, many third party vendors also make good revenue with the accessories that targets iPhone, iPad and Mac computers.
Before starting with the list of best apple smart keyboard alternatives for iPad Pro, i like to give an highlight about the Apple Smart Keyboard.
Also Read, Best Apple Macbook Accessories to Buy
Apple Smart Keyboard
Apple has released a dedicated, different size of Smart Keyboards while launching iPad Pro 12.9 inch and 9.7 inch. Whenever you want to use a physical keyboard with your iPad Pro, to type flawlessly and use all the shortcut keys and commands, Smart Keyboard is the best. Some of the feature highlights are,
no battery or dedicated charging is required.
light weight, pairs instantly after connecting with iPad Pro.
Super Portable and gives perfect angle to type.
Customizable Keyboard Shortcuts and Onscreen Shortcut Bar with third party apps compatibility.
the fabric used in Smart Keyboard is water and stain Resistant.
It is definitely the best keyboard from apple and with perfect compatibility and features. If you prefer top quality and premium in every bit, then Apple Smart Keyboard is the Best keyboard for iPad Pro models.
Price: $169 (12.9 inch) / $149 (9.7 inch)
Buy: Apple Smart Keyboard on Amazon
Alright, let's see some of the best apple smart keyboard alternatives for iPad Pro 12.9 inch and iPad Pro 9.7 inch models.
Logitech iPad Pro Keyboard
When you don't want to buy Apple Smart Keyboard, the first recommendation i have for you is, Logitech Keyboard for iPad Pro models. Logitech named it as Logi CREATE Backlit Keyboard case that comes with Smart Connector to connect with your iPad Pro. Ofcourse, it comes with backlit feature, and you can use this keyboard very well in night times just like your Macbook Pro.
Well designed keyboard layout with adjustable back lightning option, language switch, media controls, volume controls and iPad Sleep/Wake buttons.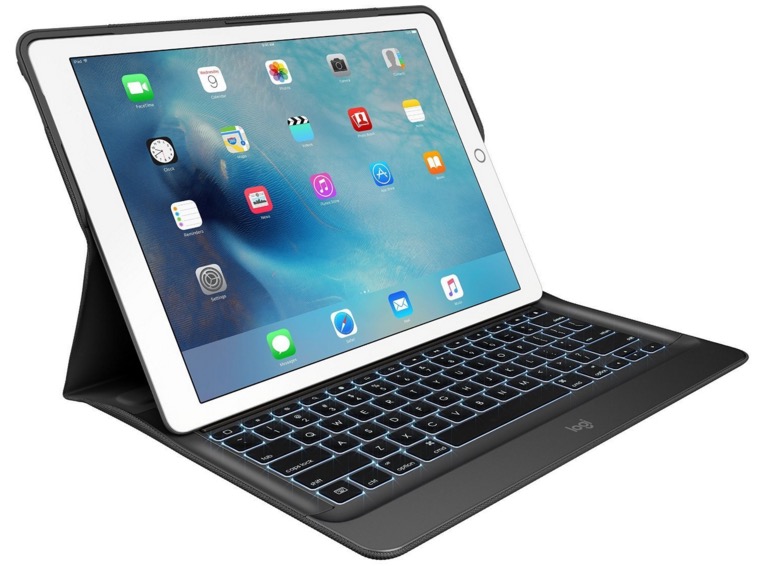 It is not the first time for Logitech and they are masters in creating keyboards of Macbook, iPad Air models and other accessories for earlier iPhone, iPad models. They make it affordable and cheaper than apple wireless keyboard or apple smart keyboard. This logi CREATE Keyboard also gives decent protection to your iPad Pro with its fully closed Cover design.
You can see that in action by viewing the above intro video by Logitech.
Price: $144 (12.9 inch) / $79.99 (9.7 inch)
Buy: Logi CREATE Keyboard on Amazon
Mosiso Ultra-Slim Bluetooth Keyboard
Just like previous iPad models, the iPad Pro devices very well support bluetooth keyboards and accessories. Mosiso is one of the top selling Bluetooth Keyboard for iPad Pro 12.9 inch models when people look for cheaper smart keyboard alternatives. It uses low power bluetooth connectivity to connect with your iPad Pro and allows you to type and use all the iOS shortcuts available.
Comes in three different colors as Gold, Gray and Silver. Mosiso Bluetooth Keyboards for iPad Pro also has large backlit keys with adjustable backlighting feature. You can switch between 7 different colors of lights by pressing the keyboard color changing key. Its thin and fits perfectly with iPad Pro 12.9 inch model and they currently don't have a keyboard case for 9.7 inch iPad Pro.
Mosiso is popular for their accessories like laptop bags, macbook cases, wireless speakers and several other gadgets. It converts your iPad Pro to Macbook the moment you connect and place it in the top of the keyboard.
Price: $69.99 (12.9 inch)
Buy: Mosiso iPad Pro Keyboard on Amazon
Also Read, Best External Battery Power Banks for iPhone and Android Mobiles
ZAGG Slim Book Case iPad Pro Keyboard
Another 12.9 inch iPad Pro only keyboard case from a popular accessory manufacturer. ZAGG is known for its high quality iPhone screen protectors and hardshell cases. They do have several iPad accessories in their store and their latest release is an iPad Pro Keyboard that connects wirelessly using Bluetooth with your iPad and gives a complete premium feel.
Its ultra thin and Hinged with Detachable Backlit Keyboard with a dedicated battery backup built inside. ZAGG promises that its lithium battery built inside the iPad Pro keyboard will last up to 2 years of regular use between charges.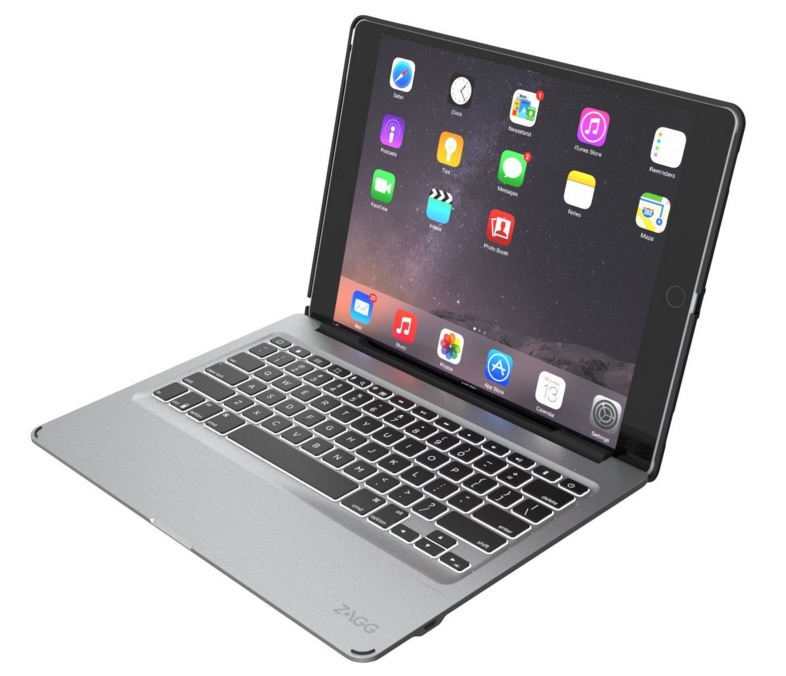 This keyboard case gives full protection to your iPad Pro and also gives you 4 different modes for different use cases.
Case Mode that lets you use it as a regular iPad on the go.
Keyboard mode for comfortable placing in the desk and typing on like a macbook.
Book mode for convenient and comfortable reading, while you sit in the couch or at a coffee shop.
Video Mode for watching movies in a perfect viewing angle.
Overall, ZAGG once again done a wonderful job and the only negative side is, the missing of smart connector feature. Anyhow, the battery lasts longer than regular bluetooth wireless keyboards available in stores. So you don't have to worry about replacing battery while you are in a tour.
Price: $115 (12.9 inch)
Buy: ZAGG Slim Book Case on Amazon
IVSO Bluetooth iPad Pro Keyboard
If you are looking for something leathery, soft and different type of iPad Pro keyboard case than the regular one, IVSO iPad Pro Bluetooth Keyboard should meet your requirement. This keyboard designed using high quality leather cover and soft microfiber material lined interior that provides full protection to iPad Pro.
IVSO Bluetooth Keyboard for iPad Pro uses Bluetooth v3.0 to connect with your iPad. The stand mode allows you type comfortably at office, cafe or at any desk setup. IVSO Bluetooth Keyboard for iPad Pro instantly converts your iPad to Macbook without loosing any premium look and feel.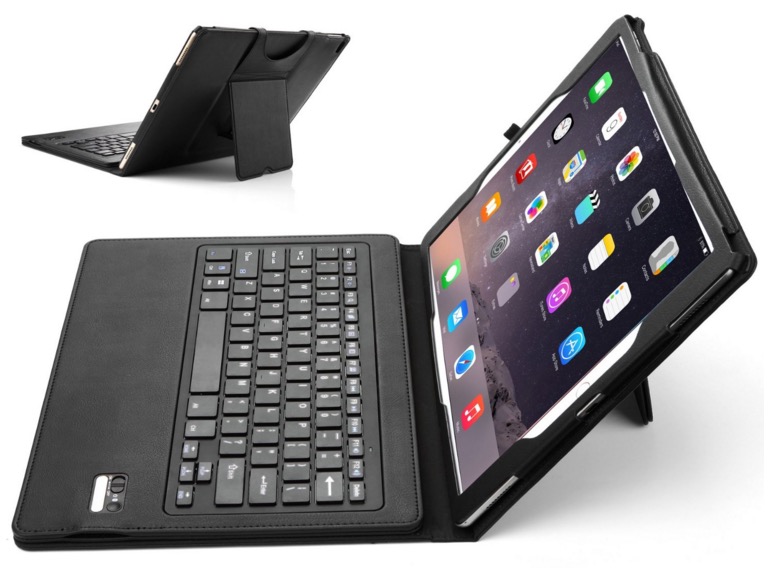 The top casing that covers your iPad Pro has precise cuts to let you access headphone port, charging port, volume and power controls easily. Comes in 7 different colors to choose, and starts at just $32.95 for iPad Pro 12.9 inch device. Ofcourse, they do have same Bluetooth Keyboard case for iPad Pro 9.7 inch model as well.
Price: $32.95 (12.9 inch) / $27.90 (9.7 inch)
Buy: IVSO Bluetooth iPad Pro Keyboard
So, which one you have decided to buy today? I personally recommend you to consider an iPad Pro Keyboard with Smart Connector and we have very limited choice as Logitech CREATE is the only answer. Bluetooth keyboards are good too, with all the protection focus and battery that lasts longer as up to 2 years. So carefully decide and go for the Best iPad Pro Keyboard today.
I hope you liked these Best Apple Smart Keyboard Alternatives recommendation. Feel free to share a word about this to your friends and followers across Facebook, Twitter and Google+. Have a wonderful productive day.
You may also like to Read,