Apple has refreshed its Macbook 12 inch line up with latest Intel 6th Generation Skylake Processor, higher frequency RAM, Intel HD 515 GPU and faster I/O performance as well. The same day the thinner, lighter, longer holding up Macbook Air also got a speed increase in its RAM department. Apple has updated Macbook Air 13 inch model with 8GB 1600MHz as default at the same price. There is no change in the pricing for both Macbook 12 inch and Macbook Air model even after the specification increase.
That sounds good, but the question remains, which one is the best buy this 2016? Apple really puts the Macbook buyers in a big confusion without bringing the necessary upgrades to Macbook Pro line up. There are Rumors that claims, this June 13, 2016 during WWDC event we can expect thinner, lighter macbook pro models.
Looking for New Macbook Pro 2016 models? You can Buy Macbook Pro 2016 models at Amazon.com and get Fast Shipping for Amazon Prime Members and more offers.
If you are in a hurry like me and need a macbook as soon as possible, then looking for suggestion to buy the best macbook available today, then continue reading this. I won't be making you to read tens and hundreds of passages to find which is the best macbook to buy before the release of Macbook Pro 2016 models with skylake processors.
To save you time, i like to start this article with the answer first and rest of the details below. After a month of research that includes, reading and watching videos from existing users, i came to the following conclusions and happy to recommend you, your next Macbook computer.
Macbook vs Macbook Air vs Macbook Pro
Macbook 2016 model
12 Inch Macbook 2016 model gets 15 to 20% increase in its overall processing power and if you prefer an iPad Pro with OS X installed and a physical keyboard, then go for Macbook 12 inch model. Its for you and meets all your every day computing tasks with light weight, thin form factor. One more recommendation, consider 2015 model if you are not into Rose Gold color choice and want to save few hundred dollars. Refurbished models are up for sale at apple website.
Also Read,
Pros:
Super thin
Light weight
Beautiful Retina Display
Easy to Carry and perfect for Web Surfing and few other moderate level of tasks.
Cons:
Super Expensive
low in hardware specification
just 1 USB-C connector
Price: $1299 and above.
Buy: Apple Macbook 2016 model from Amazon
Video Credit: MobileTechReview
---
Macbook Air 13 inch
Now with 8GB RAM as a default capacity, it definitely stands as my favorite light weight computing experience with all the apple awesomeness inside. One downside is the non-Retina display, however, for casual surfing i can sacrifice that for 12 hours battery and a very comfortable to type keyboard, trackpad and thinner, light weight form factor. Macbook Air 11 inch didn't get any upgrade but you can always load up more power to it by manually configuring it in Apple website while ordering.
Recommendation: Get Intel Core i7 model with Macbook Air 13 inch while ordering for best performance and and Good Resale value.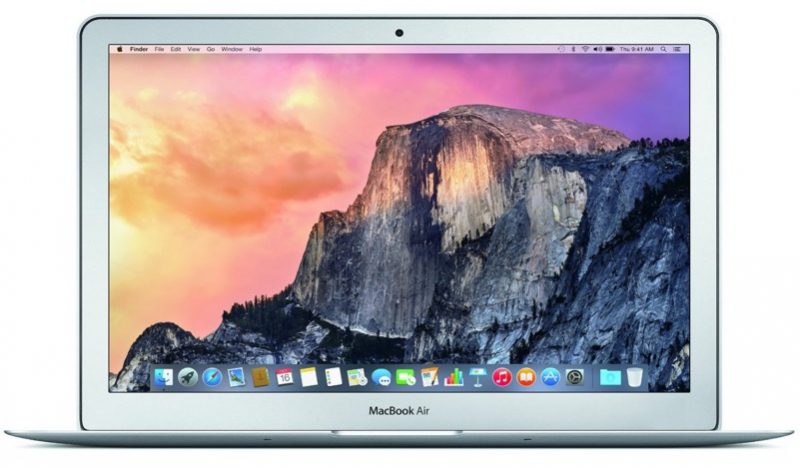 Pros:
Thin and Light weight
Decent hardware specification
2 x USB 3 ports and 1 x Thunderbolt 2 port
PCIe-based Flash Storage for faster performance
Decent Display with 1440 x 900 resolution
12 Hours of Battery Life
Best buy for its Price
Cons:
Non-Retina Display
no upgrade possibility
3 MB L3 Cache
Price: $999 and above
Buy: Apple Macbook Air 2016 model from Amazon
Video Credit: MW Technology
---
Macbook Pro
An all rounder with best hardware specification and if you are into image editing, video editing, then this macbook pro is for you. Macbook 12 inch model has the Retina display with hardware specification lower than macbook air model in certain areas. Don't worry about the weight, its just a sacrifice that apple forces you to make to get the best hardware for all your power computing tasks. Simply choose between the screen size, whether 13 inch or 15 inch and buy macbook pro model without any second thought.
Apple Macbook Pro 13 inch comes with 8GB RAM as default capacity and you can upgrade it to 16GB while configuring and ordering. 16GB RAM as set to the highest capacity you can have, the 15 inch model comes with a possibility of just Storage and Processor upgradability.
Also Read, Apple Macbook Pro 2016 models Design by Martin Hajek
Macbook Pro 13 inch is known for its best portability and 15 inch is mostly used in a desktop setup with a big screen monitor connected to it. You can do the same with 13 inch model ofcourse with its Thunderbolt port, so choose which screen size suits you based on your work environment and comfort.
Pros:
starts with Core i5 and Core i7 processor specification
Faster Storage, I/O and RAM capacity
Gorgeous Retina Display with more screen resolution
has all the necessary Hardware Ports you will need
Worth for its Price
Cons:
not light weight or thin like other Macbooks
15 inch model seems priced few hundred dollars higher
Price: $1299 and above
Buy: Apple Macbook Pro from Amazon
Video Credit: Jonathan Morrison
---
Alright, its time to conclude. As I mentioned at the start of this article, Apple really made the selection of Macbook very hard. If you can wait till June 13, 2016 for WWDC Event, then you can also see what Apple have for Macbook buyers with the release of new Macbook Pro 2016 models. It will be easier for you to decide and get an updated Macbook Pro with Skylake Processors. Ofcourse, the light weight options are already up to date according to apple, but the beast still waiting in its Den to be out.
First, list your requirements clearly and that should help you decide better with the Macbook purchase. I hope this article have helped you in selecting your next Apple Macbook. Feel free to share this post with your friends and followers, also leave a comment below with your suggestions and views. Thanks for reading and have a wonderful day.
You may also like to Read,