If you are an iPhone user surely you might have interested in switching to android phones. But one of the challenging thing in migrating from iPhone to android is you need to transfer iPhone contacts to android. Few weeks before I wrote to backup your entire android phone and to backup your android sms to gmail. In both the backup process Google is the primary point and we can backup everything to Google easily.
You may also like to read, iSkysoft Video Converter Software to Convert your favorite movies, music videos and youtube videos and upload them to your mobile phone easily. They are available for both mac and windows operating systems.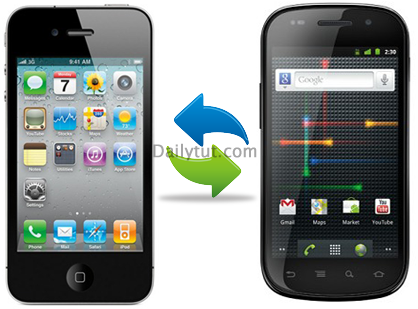 The same we going to follow in our contact transferring from iPhone to Android. We will be using Google Contacts for transferring the contacts from  your iPhone to android. The procedure for transferring the contacts from iPhone to android from mac also the procedure for windows machines.
To import iPhone Contacts From Mac to Google Contacts

1. Connect iPhone and open the iTunes in your macbook ( iTunes 7.7 or later version is preferable)

2. Select iPhone from the device list in your iTunes.
3. Click the info tab in your iTunes.
4. In address book click the sync address book contacts option.
5. Select all contacts and check the sync Google Contacts option in the same page.
6.Click configure button to enter your Gmail id and password.
7. That's it, all the contacts from your iPhone are sync with Gmail contacts.
Note: To sync your iPhone contacts with Gmail you need to clear all the contacts in your Gmail account. Otherwise use a fresh Gmail id for sync your contacts.
To Import iPhone Contacts from PC to Google Contacts
1. Install iTunes latest version in your windows machine. Download iTunes (latest version).
2. Connect iPhone to your PC.
3. Go to iTunes and select the iPhone from device list.
4. Click info tab and select sync contact with.
5. Select Google Contacts from the list.
6. You will be prompted to enter your Gmail id and password.
7. After entering your Gmail id and password click ok to start sync.
To Copy Contacts From Google to Your Android Phone
1. Go to Accounts & Sync in your android phone (menu -> settings -> Accounts & Sync)
2. Tap add account option at bottom of the screen.
3. Select Google from the list and enter your Gmail id and password.
4. Then your Gmail account will be sync with your android mobile.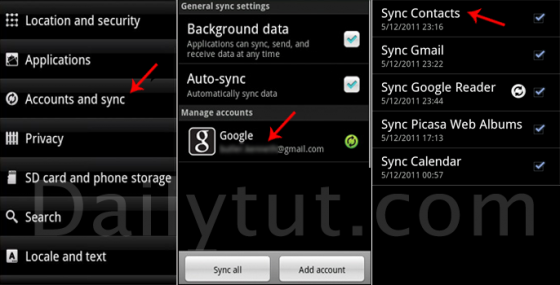 5. Tap the Gmail account as show in the above screenshot above.
6. Then you will have a list of options to enable or disable sync with your android mobile.
7. Tap on Google Contacts then it will automatically sync the contacts from Gmail.
8. That's it all  your Google Contacts will now appear in your android phone contacts.
Thanks for reading. Please drop your comments and suggestions if you have done the transfer successfully. You may share this article in Facebook or Twitter to help some of your friends to complete this Task.