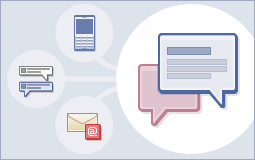 There were talks about Facebook Project Titan across the web and facebook has made that is not a rumor and they do have plans in future to bring such service. Facebook has launched their features loaded new facebook messages service on demand during the monday event. You can request for an facebook new messages invitation by following this url. This way you can send and receive emails from your facebook message box.
Your facebook email id will look like "[email protected]". If you have not created a facebook username before, then checkout this link to create your unique facebook username.
Facebook New Messages will get lot more features loaded in near future and facebook team is constantly working on it to increase the messaging feature with different mail service providers as well.
[youtube width="550″ height="344″]http://www.youtube.com/watch?v=bdzuFG6q63k[/youtube]
Its bit complex for facebook users who are actually not tech savy. And hope facebook will simplify the process more easy to understood by every user.
Texts, chat and email together in one simple conversation.
Get Facebook messages, chats and texts all in the same place.
Include email by activating your optional Facebook email address
Control who can send you messages through your facebook privacy settings
See everything you've ever discussed with each friend as a single conversation.
No need for subject lines or other formalities
Easily leave large conversations that no longer interest you
Focus on messages from your friends.
Messages from unknown senders and bulk email go into the Other folder
Spam is hidden from view automatically
Request for Facebook New Messages Invitation.