Update: Black Friday 2017: MacPaw Cleanmymac 30% Discount Offers
Worried about your Mac's Performance? Download Macpaw Cleanmymac 3 and instantly turbo charge your Mac's Speed and Performance. Now for limited time, Macpaw Bundle Offer will bring Cleanmymac 3 + Gemini 2 together and get you 10% Discount from the store price. Both latest versions to boost your Mac's speed and performance at 10% savings for limited time from Macpaw.
I am using Cleanmymac, since version 1 and recommending it to my friends whoever using mac and finding it slow at times. There are various reasons for a mac getting slower. Users who also encounter Apps Crashing and System Hangs that makes them go for Hard Reboot by pressing and holding power button, can try this app too.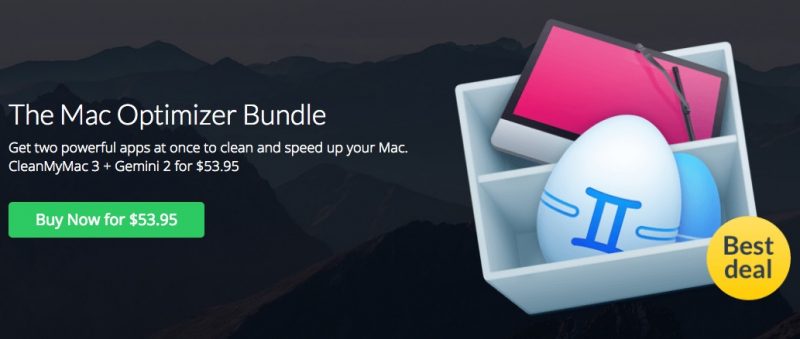 Cleanmymac 3 comes with tons of improvements than Cleanmymac 2 and you can read the full Cleanmymac 3 Review here. This mac cleaner app is so silent and works simply great without slowing down my mac even, when it performs scanning and cleaning the files. Once scanning completed, it prompts the user for performing cleaning task. You can always review the files and folders that it has found clogging your hard disk space and affecting mac's performance.
After reviewing the list of files to be trashed permanently, proceed clicking on "Clean" Button to speed up your Mac.
So, what is Gemini 2 App? Well, Gemini 2 is a standalone app that does one perfect job to free up your Mac's hard drive space. It detects Duplicate files in your Mac Hard drive and cleans them. Gemini 2 has its Intelligent algorithm that detects duplicate files in mac hard drive and prompts you to review them before initiating the deleting task.
CleanmyMac 2 to CleanmyMac 3 Upgrade Discount Offer
You can get 50% Flat Discount when you upgrade your Cleanmymac 2 app to Cleanmymac 3. This upgrade offer brings big savings to you, if you are an existing customer of Macpaw Cleanmymac App.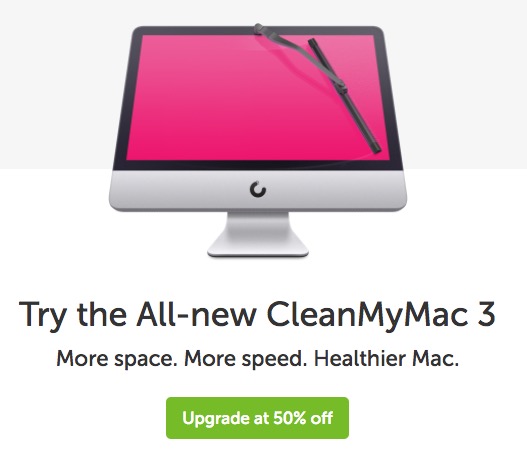 (Click on the above image to take you to the 50% Cleanmymac Discount Offer page.)
Cleanmymac 3 + Gemini 2 Bundle Offer
For limited time Macpaw is bundling up the two top selling Performance Boosting apps for Mac OS with 10% Discounts. Let me highlight some of the important features that these two apps offer to boost speed and performance to your Macbook, iMac or Mac mini computer.
Cleanmymac 3 Quick Review
It is like an all-in-one app for keeping your mac clean and turbo charged all the time. Mac has a very good indexing system and by default it works faster for long run, while comparing with the other operating systems. But as the day goes, when we install more third party apps and use them every day, it started to affect the mac's speed and performance. Even the regular web browsing will affects mac's performance and user experience with tons of temporary files, cache data and other website, apps related data being stored in local hard disk drive.
Easy to use UI and Design.
Advanced and Intelligent Scanning that goes very deep into your Mac HDD.
Quick Clean feature allows you to clean the unwanted files instantly in seconds with single tap.
Packed with all necessary tools to speed up your mac computer.
System wide Health monitoring and Alerts helps you to keep your Mac Healthy always.
It is not easy and possible by the user every time to scan and delete files from mac os. We have to automate this entire cleaning process and let an app handle everything perfectly without leaving any traces, temporary files or cached data.
Cleanmymac 3 does just that, and its a super fast application that scans faster and cleans faster once identified the files it has to remove.
Whenever you plan to uninstall an app, by default what you do is, simply drag and drop that app from Applications folder to Trash folder. That's how we mac users normally uninstall any app. Did you know that most of the apps leave cached data, temporary files, app specific data in various folders it creates after you install it in your system? These files can be removed completely without leaving a single bit of them when you uninstall apps using cleanmymac 3 software in mac os.
Hereafter, you can be smart and uninstall the apps 100% and save more space in your hard disk drive.
Gemini 2 Quick Review
There is no question about Mac OS default Indexing and File handling capabilities. However, there are still duplicate files being created for various reasons by the Mac OS and by the third party apps that you install and use. These duplicate files stay in your hard disk drive and fills up the space as unwanted files. Let's quickly see some of the feature highlights of Gemini 2 App.
Gemini 2's Intelligent Algorithm triggered when you Search for Duplicate files.
One Cleaning operating free up gigabytes of hard disk space if you are using it for the first time.
It scans and finds similar files, duplicate photo copies and documents using its brilliant algorithm.
You can always review before deleting the duplicate files and it keeps the original file as it is.
Everytime you perform a Scan using Gemini 2 App, it becomes more intelligent in detecting the duplicate files in your mac hard drive.
Millions of mac users are already happy with Gemini 2 and Cleanmymac 3 App. Join the productivity users club today, by downloading cleanmymac 3 + gemini 2 bundle license keys with 10% Discount.
Cleanmymac 3
Store Price: $39.99
Gemini 2
Store Price: $19.95
Total: $59.94
Cleanmymac 3 + Gemini 2
Boost your Mac's Performance and Speed Instantly. Thanks for reading and if you find this Macpaw's Cleanmymac 3 and Gemini 2 Bundle Offer Discount useful, feel free to share it with your friends and followers. Have a wonderful productive day.
You may also like to Read,