How to Manage your Facebook Timeline effectively that makes your facebook-ing easier and improved to suite with the new facebook timeline feature introduced recently. If you have activated facebook timeline developer preview a month ago, then you must have experienced the features it delivers and how easy it is to manage your Privacy of every single status update that you do, improved UI and Design changes, cover page and some extra updates the facebook developer team have brought to us this time.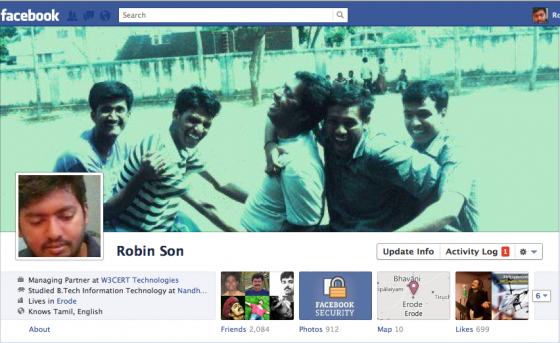 Though, many feels that this is really the worst choice that facebook has ever made as facebook timeline forced on all the users accounts, there is also certain facts that we cannot deny where the updates happen for certain bug fixes, feature additions and to let users feel the change at certain intervals. Its not just the social networking giant who brought this huge changes, almost the most common services in web today that we use are slowly getting new design, ui and layout changes.
Facebook Timeline Review period has set for the accounts where 7 days trial period to organize and personalize their timeline page before publishing it publicly. If you are not publishing it within the review period, then it gets published automatically once the review time is over.
Facebook Cover Photo
The very first impressive way to decorate your timeline is the Cover Photo Area. Where you can upload your favorite picture as your cover photo to make your profile look great. Simply click on the "Change Cover" to set your cover picture from your existing uploaded image or upload a new one and set it as a cover picture. In future, no wonder that this will become a great advertising area for bloggers and social media advertisers.
A Good Cover photo makes your Profile page into a perfect Splash Page for visitors who visit from now on.
Privacy Settings Remain Same
If you have used any privacy setting for certain status updates, then all of them remains same and nothing changed. The new facebook timeline adds some more easy way to change the privacy of your status updates.
Auto Loads Old Status Updates
When you visit your friends profile earlier, you got to click on "view old posts" button everytime at the footer to see more updates. This has simplified with facebook timeline and you simply scroll your mouse down to automatically see the status updates which gives the feel like, you are traveling back in time.
Facebook Timeline Featured Posts
This is another interesting feature to make your timeline look totally great. Now you can "Feature" the posts that you find it should get more attention from your facebook profile visitors and friends.
Move your mouse curse to the top right corner of each status update box and select the STAR icon to FEATURE the posts that you want to make it look fit to the timeline with wide view. This suites very well for Videos that you share on your Timeline.
Facebook Activity Log

One feature that makes the timeline management very easy and effective, is facebook activity log available on your timeline, right next to your cover photo. This gives complete control over the posts you have made so far in facebook. This gives more control and simplified privacy access for each status update, pictures, videos you have shared in just single mouse click.
Add Posts and Mention the Date, Month and Year
Facebook your Entire Life. No wonder that in future if somebody want to write a biography about you, then they can simply visit your facebook account. In the new timeline you can update status, upload pictures, videos of trips you have went with your friends and specifiy the date, month and year to mark it when it happened.
People likes to think about the great time they have had with their friends and family. Now travel back to the same date using facebook timeline and record your events.
Facebook Timeline will be forced to your account as i mentioned earlier. May be in near future we can expect a feature to get old facebook layout and design, if facebook considers the huge number of request. As many people feel that its their rights to choose what they want. Some users ready to quit facebook and switch to google plus also. Whatever the case, Once you tried the easy navigation options and features that timeline gives you, then you will not go anywhere 🙂
Just take some time to learn the facebook timeline and optimize it very well to make it look great while public launch happens. Have a safe and secure facebook experience. Thanks for reading and please do share this post if you like it.